GAZEL - Energy from agricultural industries waste through local appropriation and deployment of gas generators
Role in the project
Coordination
Partners
Main goals
The aim of the program is to develop a viable solution for the recovery of agricultural and agro-industrial waste, for powers from 100kWe to 2MWe, with a strong impact on local economies, the local and global environment, and climate change. The manufacturing and operating know-how of such gas-fired factories, already effectively operational in Cambodia, will be capitalized to be transferred and adapted in West Africa. A major training-action and on-site support component will make it very operational to manufacture the first units in Côte d'Ivoire, to install them, and to operate these first installations in Benin and Côte d'Ivoire with a view to to develop a viable sector, which provides high local added value in terms of employment, improvement of the electrical service (and access) in rural areas, local environment and positive impact on climate change.
Specific objectives
SO1. Develop the industrial tool for the production of gas generators through the transfer of technology and knowledge from Cambodia
SO2. Adapt gasification technology to the context (cashew in Côte d'Ivoire, Benin)
SO3. Demonstrate the production of small power electricity in West Africa: Build, commission and operate a first gasification unit for cashew shells, supported by operational training, and complete the file financial to launch a second unit, start of a sector
SO4. Improve the international competitiveness of cashew factories in West Africa and perpetuate the establishment of the gas-generating sector to improve access and local rural services
Beneficiaries
Industrialists for the production of gas generators and 100% gas engines
Project leaders: cashew industry (notably OLAM and Tolaro)
Institutions in the electricity sector, the cashew sector and agriculture
Financing structures (notably MORINGA, SUNREF West Africa, ELECTRIFI...)
Training and research & development institutions (in particular INSA, PROVADEMSE, 2iE, the National Polytechnic Institute of Yamoussoukro, The University of Abomey Calvi...)
The target audience is the agro-industrial sector with recoverable waste in electrical energy as well as sectoral sector managers
Results
R1. Effective South-South technology transfer (Cambodia-Côte d'Ivoire) concerning the production of gas generators, the gas cleaning system and 100% gas engines
R2. All the different components of the plant will be adapted to the new context: new biomass (cashew shell for which the first validation tests have already been carried out) and new context in West Africa
R3. A global industrial solution for West Africa including two gas-fired plants with a capacity between 500 and 2000kW operating from cashew shells in West Africa, a priori in Benin and in Côte d'Ivoire, with 100% local gas generators and engines
R4. In view of the two demonstrations and dissemination actions carried out by the partners, the cashew sector and more generally small agro-industries (rice, sawmills, etc.) will be mobilized and in demand, and a pipeline projects will be created, both because of the solution to waste management and the better economic viability
Activities
A1. Capitalization of the Cambodian experience and adaptation to the cashew nut and the context of West Africa; Manufacture in Côte d'Ivoire of local gas generators and engines; formalization with local businesses
A2. Transfer and implementation of technical know-how / training (manufacturing, installation, operation of gas-generating plants)
A3. Mobilization of agro-industry project leaders and organizational, financial and technical arrangements
A4. Engineering, construction support, commissioning and operation
A5. Collective advocacy, institutional framework, capitalization and reproduction
Related people
Project manager / Bioenergy & Waste
Having graduated from the Engineering School INSA of Lyon as an Engineer in Energy & Environment, option "Thermal systems engineering", Section "Top-level sport", he brings his expertise in renewable thermal systems implementation and analysis, in the food processing industry (shea and cashew), waste recycling and training of local experts
See more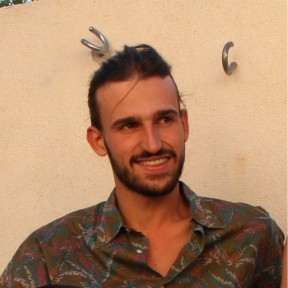 Project officer / Bioenergy & Waste / Benin
Arnaud Niesz
Energy and environment engineer gratuaded from the Institut national des sciences appliquées (INSA) Lyon, he works on subjects related to material and energy recovery of agricultural and agro-industrial bio-waste (in the cashew nut sector particularly).
Please refer also to
H2CI - Feasibility study for the instal…