KOLORANO - Integrated Water Resource Management (IWRM) Program in Upper-Matsiatra, Madagascar
Role in the project
Coordination
Partners
Main goals
The project is a continuation of the Zambazamba project, this IWRM pilot project implemented in the municipality of Nasandratrony since March 2014. In order to maximize the value of investments in terms of Potable Water Conveyance (PWC) by the Decentralised Cooperation Programme between the Metropolis of Lyon (ML) and Upper-Matsiatra Region (RHM), various technical, institutional and financial parnters of this project wanted to plan its replication of 6 other municipalities and 9 other watersheds in the Upper-Matsiatra Region.
Specific objectives
General objective of Kolorano (water sustainable management in Malagasy) is to reconcile water security and food security for people living / depending on the watersheds
Beneficiaries
6 municipalities and 9 watersheds in the Upper-Matsiatra Region
Results
R1. Water: reducing pressure or increase water resources
R2. Climate: reduction of greenhouse gases emissions through the promotion of SRI, CO2 sequestration in biomass and soil
R3. Biodiversity: increase local biodiversity through the dissemination of agroecological practices and the introduction of new agro-forest species
R4. Increase incomes of producers accompanied in the development of their production systems
R5. Limitation of conflicts between drinking water and irrigation water
Activities
A1. Improve municipal governance regarding agriculture and forestry management: training of 15 water and sanitation agents, installation and support of 15 nurseries
A2. Elaborate watersheds land-use plans: based on a diagnosis of agricultural systems and detailed land use mapping
A3. Protect upstream water resources: on 200 ha, 150 producers will be trained to install permanent cover (in the protection areas close to the catchments) and agro-forestry on contour lines (in distant protection areas)
A4. Elaboration of forest management plans (in the forests already constituted) with priority to the conversion of coppice to coppice-with-standards, dissemination of improved cookstoves and improved carbonisation techniques
A5. Improve downstream water productivity: implementation of agro-forestry systems (125 ha), training of 400 farmers to water-saving techniques, especially in terms of rice growing where the System of Rice Intensification (SRI) will be heavily promoted by its ability to produce more with less water
A6. Measuring the impact of the program mainly on water resources but also on biodiversity, climate and living standards of the beneficiaries
Feedback on the pilot project of Zambazamba, at the origin of Kolorano
Related people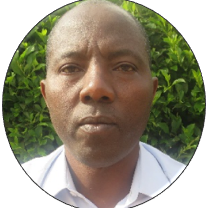 Project officer / Forest & REDD+ / Madagascar
Jean-Marie Sibomana
A forestry graduate of the Agricultural and Forestry School of Nyamishaba (Rwanda) and holder of a certificate specialized in logging and wood processing in Madagascar, Jean-Marie brings his expertise for the design of forest plantation installation, the development-monitoring forest management plans and measuring social and environmental impacts

Chargée de projet / Forêt & REDD+ / Madagascar
Ny Avy Andriamisaina
Forestry engineer, specialized on "Ecosystem and Biodiversity" and graduated from ESSA (Madagascar), she joined the team with her skills in biodiversity conservation, forest management and natural resources management. With her experience in assessing threats to protected areas, TNRM (Transfer of Natural Resources Management) and community support in conservation, she contributes to the implementation of different projects.
Project Manager / Forest & REDD + / France
PhD in Forest sciences conducted at INRA Avignon, EMMAH research lab, she brings her expertise in forest ecology, support for REDD+ mechanism and carbon accounting, Environmental and social impact assessment of projects, project management and supervision of technical work
See more
Country representative in Madagascar
With a degree in science - coupled with a background in administration and environmental economics - he has over twenty-five years of experience in sustainable development in a variety of fields: protected areas management, environmental management (planning, information system, environmental impact assessments), quality management at the National Office for the Environment, natural resource management, carbone finance
See more
Country representative in Senegal
Forester and with a Master II in "Development and Land Planning" from the National Agronomic Institute Paris Grignon and University of Science Montpellier II (France). Currently our representative in Senegal, he is pursuing technical assistance missions for the benefit of the Ivory Coast team. He brings his expertise in the design and implementation of multi-stakeholder territorial projects (REDD+, IWRM) as well as sustainable forest management and reforestation.
See more
Please refer also to
PAD NORD-HAÏTI - Sustainable management of…