TEFESS - Initiative of local communities for the protection and management of the coastal zone of Sine Saloum in Senegal
Role in the project
Technical partner
Partners
Main goals
Sustainably increase the resilience and adaptation of Sine Saloum communities to the context of ecological and climatic vulnerability
Specific objectives
SO1. Protect property, landscape and people by building structures (soft solutions) against erosion and by suitable reforestation.
SO2. Promote a sustainable local economy that respects the environment and helps to increase the climate resilience of target communities and territories.
Beneficiaries
5 local authorities: Palmarin, Dionewar, Bassoul, Djirnda and Toubacouta
3 Community Marine Protected Area Management Committees (Bamboung, Sangomar, Gandoul)
1 Community Nature Reserve Management Committee (Palmarin)
1 Saloum Delta National Park Ecoguard Committee
Inter-village community forest committees of Sangako and Djilor
5 Local Artisanal Fishing Committees
16 schools (3,000 students and 50 teachers)
Actors of the local economy: 1500 women from 30 GIE of women processors of shellfish resources and non-timber forest products.
Results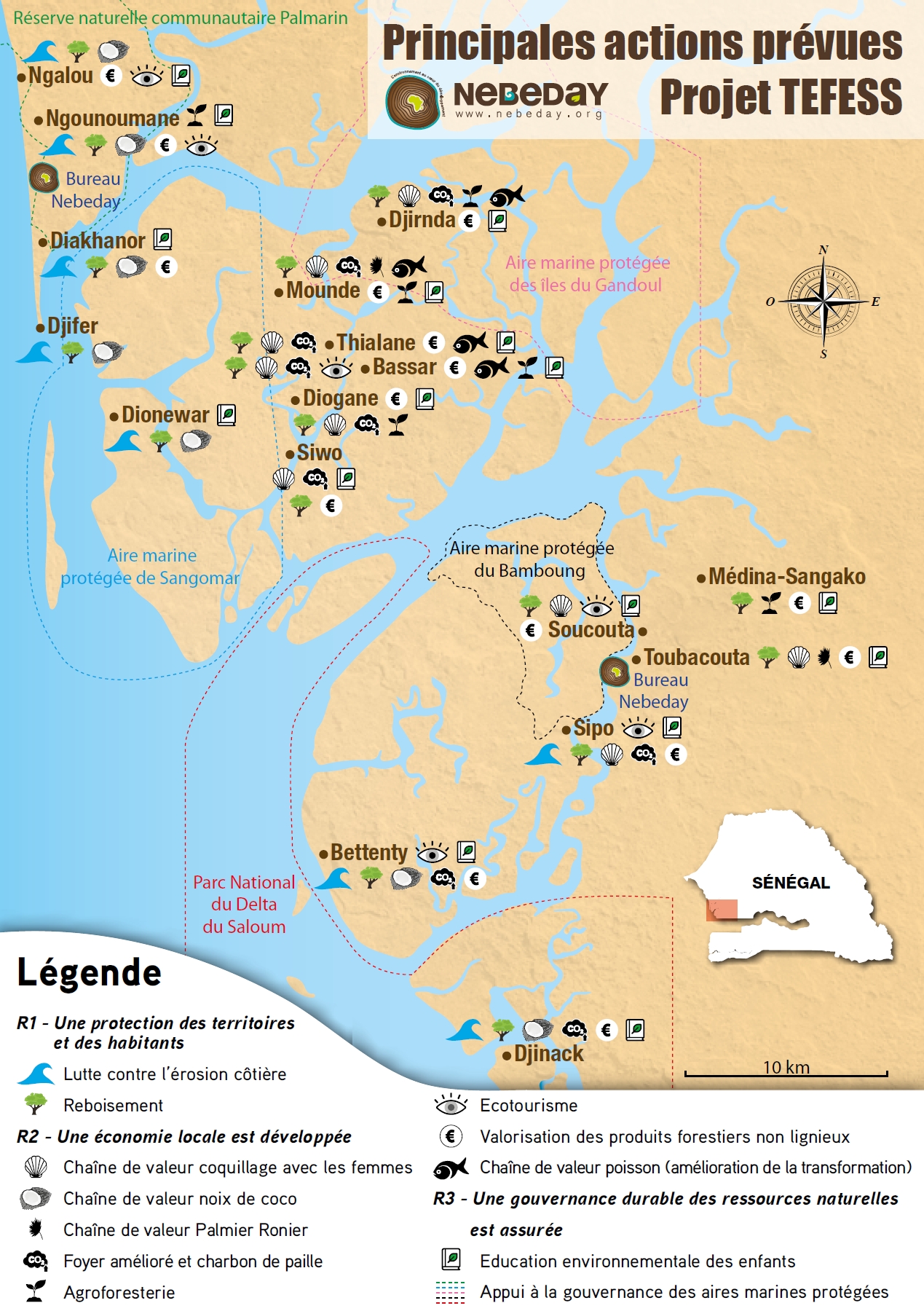 Activities
A1. Shared diagnosis of coastal erosion.
A2. Construction of anti-erosion structures inspired by the successful experience on the island of Diogé.
A3. Participatory multi-stakeholder monitoring of structures and capitalization.
A4. Plantation of mangrove trees with women and youth GIEs.
A5. Planting continental species with village committees and schoolchildren.
A6. Monitoring of plantations.
A7. Inventory and implementation of rules and techniques for sustainable exploitation of shellfish resources.
A8. Development of productive and resilient agro-forestry systems.
A9. Development of Non-Timber Forest Products (NTFP) sectors.
A10. Development of shellfish and aquaculture sectors.
A11. Reinforcement of ecotourism activities in the RBDS.
A12. Training in the manufacture and distribution of improved banco stoves and eco-charcoal.
A13. Action research for the creation of a banco fish smokehouse and suitable solid biofuels.
A14. Participatory update of the Development and Management Plan of the Sine Saloum Delta Biosphere Reserve.
A15. Capacity building for MPA managers and Local Artisanal Fisheries Committees (CLPA).
A16. Participatory training of pupils in schools.
A17. Nature Camp for the eco-citizens of tomorrow.
A18. Support for local authorities for the implementation of ICZM.
>> Get more information on the Nebeday's website here
Please refer also to
PROPAC - Professionalisation of the Pro…