TEFESS - Initiative of local communities for the protection and management of the coastal zone of Sine Saloum in Senegal
Role in the project
Technical partner
Partners
Main goals
Sustainably increase the resilience and adaptation of Sine Saloum communities to the context of ecological and climatic vulnerability
Specific objectives
SO1. Protect property, landscape and people by building structures (soft solutions) against erosion and by suitable reforestation.
SO2. Promote a sustainable local economy that respects the environment and helps to increase the climate resilience of target communities and territories.
Beneficiaries
5 local authorities: Palmarin, Dionewar, Bassoul, Djirnda and Toubacouta
3 Community Marine Protected Area Management Committees (Bamboung, Sangomar, Gandoul)
1 Community Nature Reserve Management Committee (Palmarin)
1 Saloum Delta National Park Ecoguard Committee
Inter-village community forest committees of Sangako and Djilor
5 Local Artisanal Fishing Committees
16 schools (3,000 students and 50 teachers)
Actors of the local economy: 1500 women from 30 GIE of women processors of shellfish resources and non-timber forest products.
Results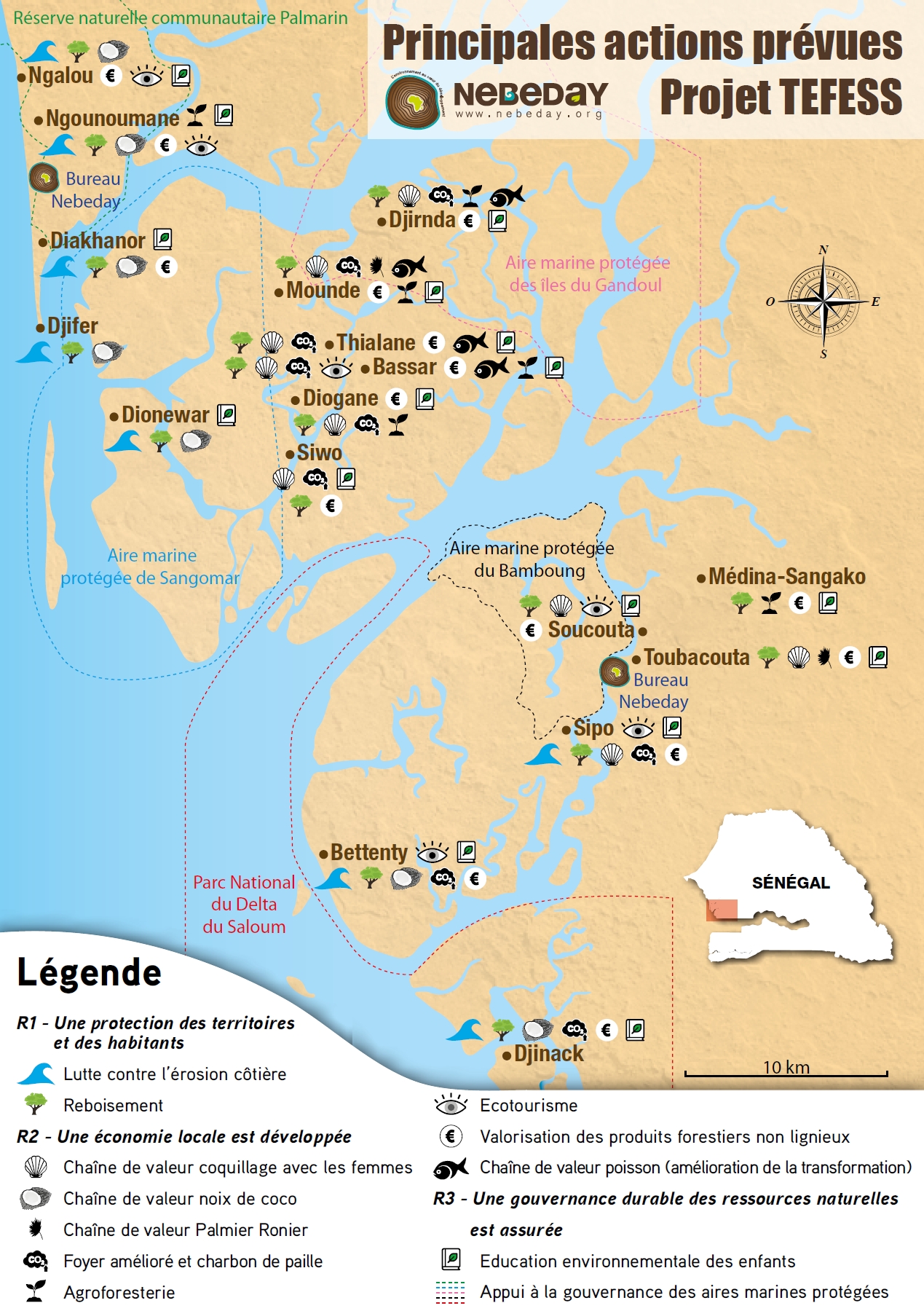 Activities
A1. Shared diagnosis of coastal erosion.
A2. Construction of anti-erosion structures inspired by the successful experience on the island of Diogé.
A3. Participatory multi-stakeholder monitoring of structures and capitalization.
A4. Plantation of mangrove trees with women and youth GIEs.
A5. Planting continental species with village committees and schoolchildren.
A6. Monitoring of plantations.
A7. Inventory and implementation of rules and techniques for sustainable exploitation of shellfish resources.
A8. Development of productive and resilient agro-forestry systems.
A9. Development of Non-Timber Forest Products (NTFP) sectors.
A10. Development of shellfish and aquaculture sectors.
A11. Reinforcement of ecotourism activities in the RBDS.
A12. Training in the manufacture and distribution of improved banco stoves and eco-charcoal.
A13. Action research for the creation of a banco fish smokehouse and suitable solid biofuels.
A14. Participatory update of the Development and Management Plan of the Sine Saloum Delta Biosphere Reserve.
A15. Capacity building for MPA managers and Local Artisanal Fisheries Committees (CLPA).
A16. Participatory training of pupils in schools.
A17. Nature Camp for the eco-citizens of tomorrow.
A18. Support for local authorities for the implementation of ICZM.
>> Get more information on the Nebeday's website here
Related people
Country representative in Senegal
Graduated from a Master 2 in Territorial Planning - Decentralization and Local Development from the Faculty of Geography of the University Cheikh Anta Diop in Dakar. He also holds an engineering degree (Master 1) in community development and training from the Higher School of Applied Economics in Dakar. He is an expert in agricultural market analysis and in training and supporting producer organizations
See more
PhD in Functional Ecology and Agronomic Sciences (SupAgro, IRD and CIRAD) and specialized in Localized Information Systems for Spatial Planning (AgroParisTech), he is an expert in land use change monitoring using remote sensing, digital soil mapping and spatial modeling applied to forestry, agronomy and landscape ecology. He is the author of numerous international scientific publications.
See more
Holder of a Master's degree in Management from the Paris-Dauphine University and a Master in "Social Policies and Planning in developing Countries" from the London School of Economics, he brings his expertise in project building and project management in renewable energy, REDD+, technical engineering, economic and financial due diligence, business development, strategic partnerships, fundraising and human ressources management
See more
Holder of a Master of Science, "Agricultural Engineer and territories development" from the Institut Supérieur d'Agriculture (ISARA Lyon), he brings his expertise in agro-food/agricultural sectors' analysis and development, strengthening of supplychain actors (producers, private/public actors, agro-food industries...), socio-economic analysis of agricultural chains and his great knowledge of companies in these markets
See more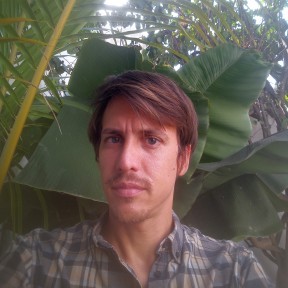 Project Manager - Agrarian Systems - Territories - Agro-ecology / Agriculture & Market / Senegal
Pierre Sutter
Graduate Engineer in Agriculture, Specialized in Agroecology of the Institut Supérieur d'Agriculture (ISA), he brings his expertise to the methodological support of the teams on the realization of diagnosis at the scale of the territory and the plot to develop the rules for managing natural resources and co-constructing innovative agricultural practices with producers. Based in Dakar serving West & Central Africa.
Please refer also to
PROPAC - Professionalisation of the Pro…