TERRI4SOL - Implementation of a multifunctional management scenario of agricultural, forestry and post-forestry territories in the Mé region
Role in the project
Project Coordinator
Main goals
Collaborative construction of scenarios, implementation in the plots and evaluation of both climatic and socio-economic effects.
Specific objectives
The project is built in complementarity with the Cocoa4Future project and aims to work on low-carbon rural development scenarios. The idea is to co-construct low-carbon development scenarios with beneficiary communities, implementing them to evaluate climatic and socio-economic impacts afterwards.
Beneficiaries
Villages of Bieby, Mebifon and Mopodji
About 450 producers supported in the implementation of low-carbon practices on their farms
Results
R1. Local analysis of regional scenarios and co-construction of local consensus scenarios (focus groups, participatory modeling workshops)
R2. Analysis of local socio-economic and environmental factors as well as impacts of each scenario for 3 villages included in the project following a participatory approach to formalize local scenarios of changes, practices and land use defined with the concerned populations
R3. Assessment of carbon and socio-economic impacts using a tool already in place that updates model parameters with data on socio-economic parameters collected and biophysical data recorded by demonstrators
R4. Support for producers who have implemented at least one low-carbon practice in their farming system
Activities
A1. Completion and update of agrarian diagnostics carried out by Nitidæ within the framework of the Mé REDD+ Project to provide necessary information for the design of local scenarios, low-carbon demonstrators, support to producers and monitoring-evaluation of component's effects by developing partnerships with the company Inprobois for production of wood in agroforestry
A2. Deployment of low-carbon demonstrators in each of the villages targeted by the project and incorporation of various pilot plots of low-carbon practices to implement in situ the strategy of preservation and restoration of organic carbon stocks (key land use transitions, technical itineraries)
A3. Implementation of measures for the support of producers in low-carbon practices, based on activities already carried out by Nitidæ within the framework of the MRP, in particular regarding the delivery of land certificates so that producers can invest without fear in low-carbon practices with an impact that is often deferred in time
A4. Implementation of demonstrators and accompanying measures that have improved carbon footprint, socio-economic and food security indicators in the 3 targeted villages
Related people
Project DESIRA Manager / Agro-Botanist / Côte d'Ivoire
Botanist, Rolande holds a Master 2 in Systematics, Ecology and Biodiversity. She currently holds the position of Agro-Botanist for the Mé REDD+ Project. She mainly brings her expertise on cocoa agroforestry plots, the management of organic cocoa cooperatives and the Organic and Fair Trade certification.
See more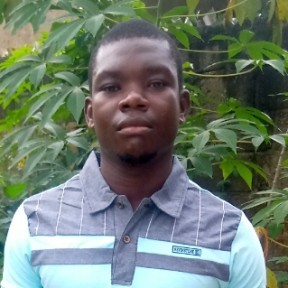 Agricultural advisor / Agriculture & Market / Côte d'Ivoire
Justin Kambiré Beh
Graduated with a Master's degree in "Ecology and Sustainable Management of Ecosystems", he brings his expertise in forestry, agroforestry, systematics and in agricultural advice and techniques. He has worked as a technician and trainer for producers on good agricultural practices in Soubré for GRIEPE, with Icraf as a botanist consultant and on the Payment for Environmental Services (PES) model for Cargill
Project Officer GIS and remote sensing / Côte d'Ivoire
Holder of a Master of Remote Sensing and Geographical Information Systems for the Development and Management of Lands and Ecosystems, Tiodionwa joined the team of Nitidæ Côte d'Ivoire in December 2016. He is currently pursuing a thesis dedicated to monitoring (agro)forest dynamics within the framework of the Mé REDD + Project (PRM).
See more
Holder of a Master of Science, "Agricultural Engineer and territories development" from the Institut Supérieur d'Agriculture (ISARA Lyon), he brings his expertise in agro-food/agricultural sectors' analysis and development, strengthening of supplychain actors (producers, private/public actors, agro-food industries...), socio-economic analysis of agricultural chains and his great knowledge of companies in these markets
See more
Country representative in Côte d'Ivoire
Agricultural Engineer, specialised in "quality of the environment and resources management", from the French National School of Agricultural Science and Engineering of Toulouse (INP ENSAT). He brings his expertise in feasibility studies for investment funds, agricultural markets studies and analysis of value chains
See more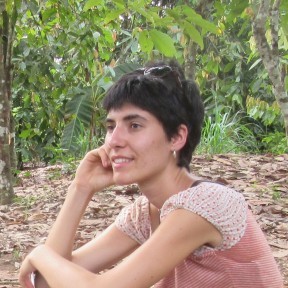 Research officer / Agriculture & Market / France
Elsa Sanial
Geography PhD at University Jean Moulin Lyon 3 and the International Research Centre for agronomy and developement (CIRAD), she brings her expertise on ecological, agronomic and socio-economic agroforestry's stakes, on cocoa value chain sustainability, the analysis of agricultural systems at territorial scale, socio-ecological systems studies, social sciences investigation, mapping and botany. She also has several years of experience in projects setting and coordination
PhD in Functional Ecology and Agronomic Sciences (SupAgro, IRD and CIRAD) and specialized in Localized Information Systems for Spatial Planning (AgroParisTech), he is an expert in land use change monitoring using remote sensing, digital soil mapping and spatial modeling applied to forestry, agronomy and landscape ecology. He is the author of numerous international scientific publications.
See more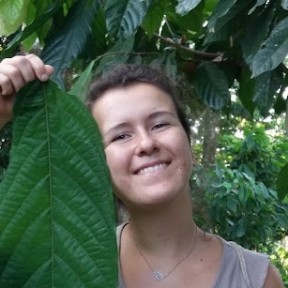 REDD+ and agro value chains task officer / Agriculture & market / France
Apolline Reboud
A graduate of the Montpellier SupAgro school of agriculture with a course in Sustainable Agricultural and Agrifood Systems in the South, she also specialized in Environmental Management of Ecosystems and Tropical Forests at AgroParisTech. After having worked at CIFOR Cameroon on the subject of community forests and in an association managing carbon offset projects (reforestation, agroforestry and rural development) as project coordinator, she comes to bring her plural approach between management of agricultural systems and forest preservation
Please refer also to
TERRESIL - Territorial approach as a le…